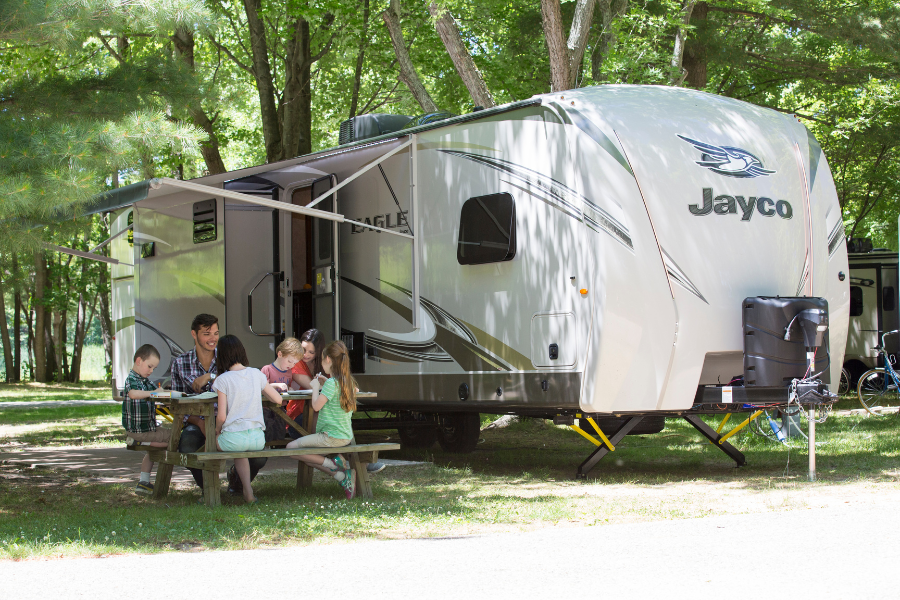 Have you ever towed an RV before? If it's your first time, it's important to know what you're doing before you hit the road. We'll give you all the tips and advice for towing your RV safely and efficiently. 
Big Boy's Toys Tips for Towing An RV
Whether you're a first-time camper or an experienced RVer, don't tow away before you read these useful tips.
Do your research before you buy
One of the most important things to consider when you plan on buying an RV is how much weight your car can handle. It's essential that before purchasing a trailer, people know their vehicle's capabilities and ensure it will be able tow whatever they want in order for them not to damage either themselves or anything else on board!
When shopping for an RV, make sure you're looking at their fully-loaded weight. This refers to how heavy your new home will be once all the items and belongings have been loaded! If overpacking is your thing, this is an important point to consider when assessing a vehicle's towing capabilities. 
Distribute your trailer's weight
Packing smart isn't just for you but also for your RV. If you pack too much at the back, your trailer will sway when it's towed. If you packed too much in the front, your trailer will be slow and difficult to tow. 
Solution? Pack your RV from side to side rather than back to front towards the axle.
Don't forget about your RV tank's weight. For instance, a full grey or black tank can add over 300 pounds to your total weight.
Master the hitch
The hitch is a very important part of your vehicle. It attaches to the backside and allows you to easily tow either a trailer or fifth wheel.
Campers often use the hitch ball and coupler style; some trucks even come with the hitch ball already attached to make the job easier.
When you first receive your trailer, practice setting up the hitch on your vehicle. Your dealership will most likely help you to do it the first time and might even assist you more than once. Take advantage of this opportunity so that there are no problems with the setup later on down the road.
Use a checklist before you tow
We all have those moments when we forget something important. It doesn't matter if you've towed an RV before or not; a missed step can cause costly mistakes that lead to more trouble than necessary! 
Your list should always include:
Check your hitch is set up correctly 
Check your brakes 
Do a walkaround inspection 
Make sure items inside your RV are stowed away and secure 
Practice towing your RV
The best way to learn is by doing. Practice towing your trailer a couple of times before your first trip.
If you have an open space nearby, take advantage of it by hitching and towing your trailer as often as possible.
Also, if you can, practice with an experienced RVer who can give you tips and feedback through the process or get in touch with your RV dealership.
Use an RV towing guide
Like we said earlier, you'll want to know your vehicle's tow rating before buying an RV. Figuring that out can be tricky. For a precise requirement that will suit your vehicle, use our guide!
Our tow guide is unique because it not only takes into account your vehicle's make and model but will also recommend RVs that your vehicle can tow, making your decision much more straightforward.  
Consult your dealer
Speak with a helpful dealer who can walk you through the models you're interested in and how you can safely tow it for your first trip. If you're on Vancouver Island, then come see us at Big Boy's Toys RV. We know that your first-time towing can be tough, but we're here to help you get on board, so you'll be towing like a pro in no time. 
Choose Big Boy's Toys for All Your RV Needs
With over 40 years of experience, we offer a wide range of services and have helped many people find their new RVs and prepare for their first trip. Send us a message, give us a call or just drop by, and our dedicated team will be pleased to serve you.