If you're looking for a great place to RV in the winter, Vancouver Island should be at the top of your list! Whether you're looking for a quiet spot in the woods or a beachfront campsite, we've got you covered. Here's our list of the best RV winter camping spots on Vancouver Island so you can start planning your next adventure. 
Why Is Vancouver Island A Great Place To RV In The Winter?
Great question. While Vancouver Island is a top destination for campers in the spring, summer and fall, it's not as popular during the winter. The off-season is often the best time to camp because it means quieter campgrounds, trails and, of course, cozy campfires.
There's no need to tamp down on your adventurous hearts during the winter. Just go RVing on Vancouver Island!
4 RV Winter Camping Spots To Visit On Vancouver Island
If you're looking for where to start your winter travel adventure, here are four destinations with an unforgettable camping experience.
Tofino, Vancouver Island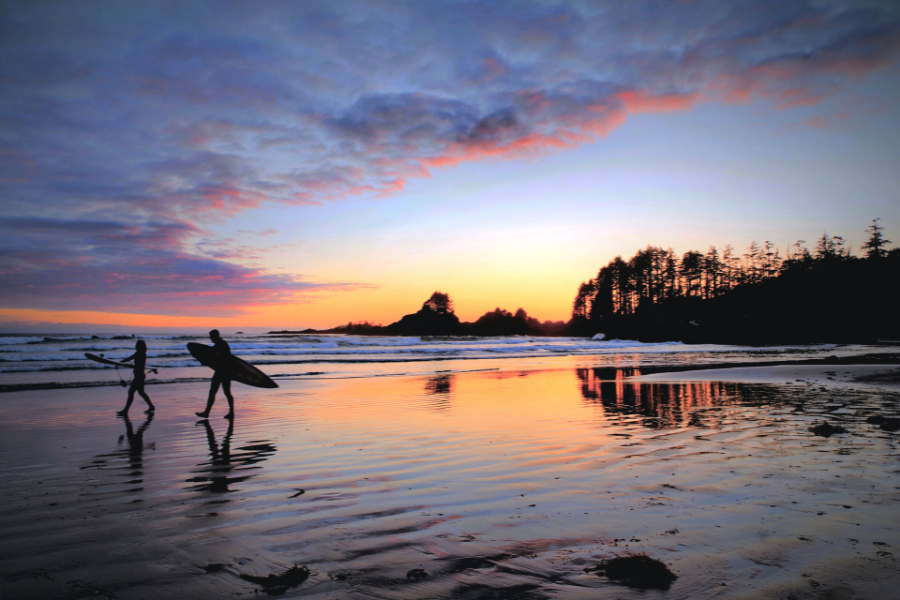 Tofino, aka 'town of eternal summer,' is a popular RV destination thanks to its gorgeous sunsets, whale watching trips and year-round laidback vibe. Most winter campers trek out to Tofino to take in the giant waves and dramatic skies. 
Winter RV trips to Tofino are a great chance to enroll in their famous surf school and catch a wave on the less crowded beaches. It's also a great place to have some truly unique walks where you can explore dense mossy areas, find shells on the beach and connect with nature while hiking the Big Tree Trail. 
After your surfing lesson, head back into town for some delicious grub or get some shopping done.
Nanaimo, Vancouver Island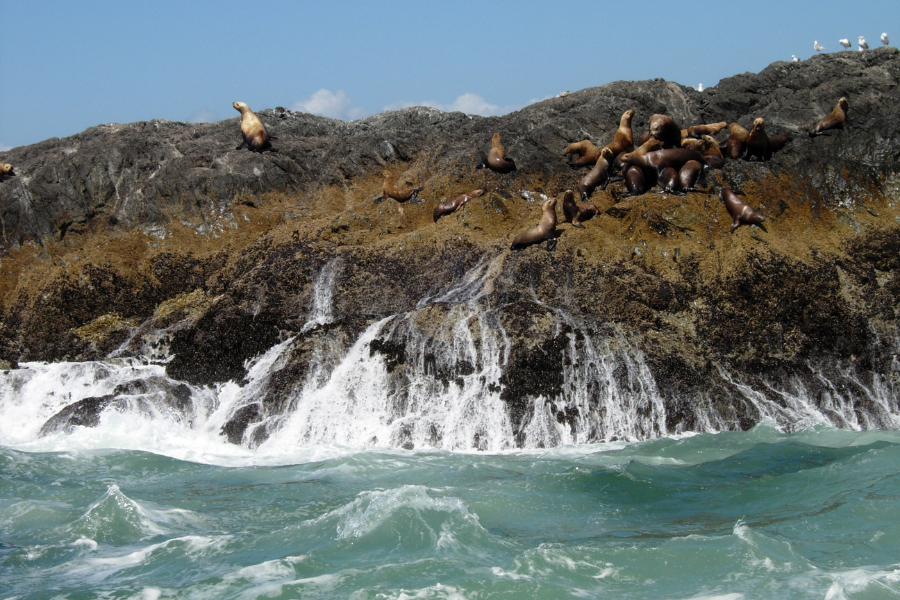 Vancouver Island RVers will be pleased to know that the lovely city of Nanaimo is just as fun during the winter as it is during the rest of the year. It's a great place to enjoy some experiences that may not be available anywhere else during the season. 
Snorkeling with seals, for instance, is a popular year-round activity that's even better during this time, thanks to the clearer water and the hundreds of sea lions that make this place their winter home. Fancy an impromptu scavenger hunt? Head over to the Big Cable Trail and try your luck with finding the many hidden dinosaurs peeking out of the greenery. 
Nanaimo is also a half-hour drive to the Parksville Qualicum Beach, where you can explore the Mount Arrowsmith biosphere region and the many underground caves.
Ucluelet, Vancouver Island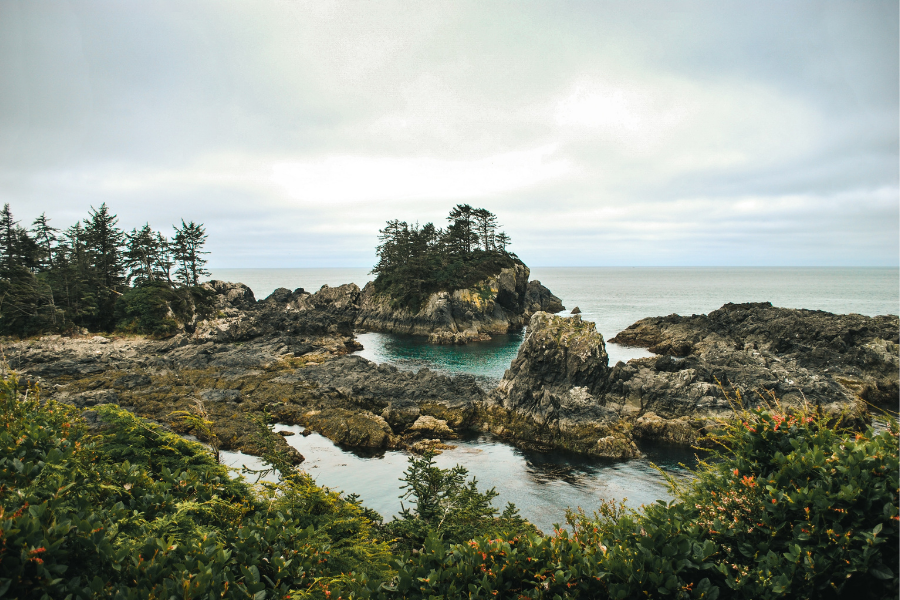 Ucluelet can get pretty rainy during the winter, but it's also notable for its storm watching culture that rivals Tofino. Equally as famous is its winter surfing, where surfers can catch waves much bigger than any you'd see during the summer. Nature park lovers aren't left out either; many of the hiking trails around stay dry during the wetter seasons, thanks to the thick firs, spruces and cedars overhead. 
This small town is also one of the world-famous ​​Pacific Rim Whale Festival locations, which happens right at the end of winter. So if you're looking for a unique RV camping trip with once-in-a-lifetime memories, a pit stop in this town is a must. Being in Ucluelet during the winter makes you feel like you have the place all to yourself. It's a great place to get away from it all and relax after a stressful period.
Port Renfrew, Vancouver Island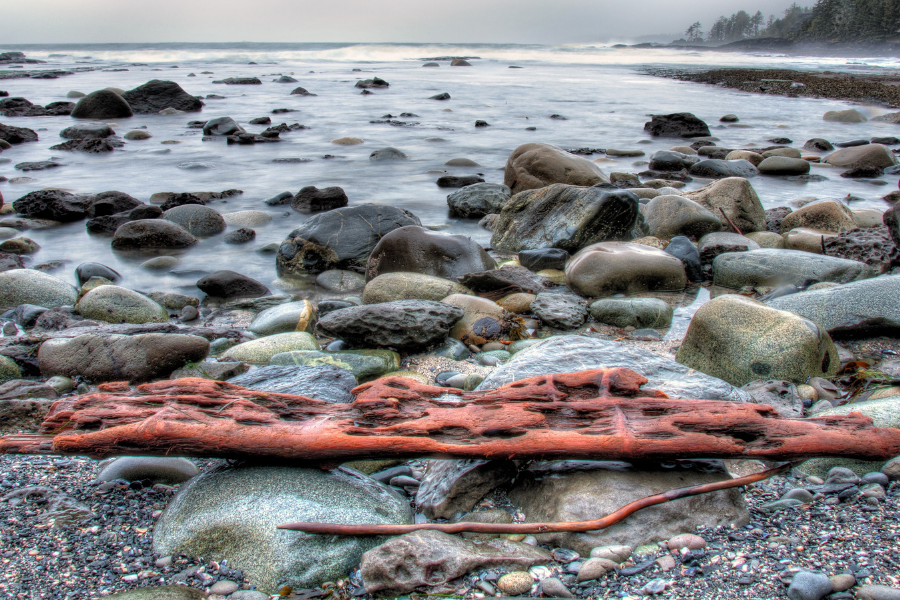 Port Renfrew is another small town with a big reputation, in this case for sports fishing. Winter is an excellent season for salmon and trout, so if you're a fishing enthusiast, this is the place for you! Other attractions are the gorgeous waterfalls, the tidal pools at Botanical Beach and the small-town vibe that feels extra welcoming during this time of the year. 
Port Renfrew has some of the oldest groves in the country, so visit the ancient cedars and firs on your trip! Hikers aren't left out either, as it also happens to be a meeting point between the famous West Coast Trail and the more obscure Juan de Fuca Marine Trail.
Are you planning a winter RV trip on Vancouver Island?
Before you set out to these winter destinations, make sure your RV is in perfect condition for a worry-free trip. At Big Boy's Toys RV, we've served hundreds of campers over the last forty years. Leave your RV with us, and we'll get it ready for your next camping trip.
Choose Big Boy's Toys for Your Next RV
We're proud to be a local, family-owned RV dealership in beautiful Nanoose Bay on Vancouver Island. An award-winning RV dealership, we have one of the most extensive RV facilities on the island, which a dedicated team ready to serve you.