Continuing our track record of stocking only the best RVs on the market, we're shining the spotlight on one of our favourite new models, the 2023 Bushwhacker Plus!
This unit was designed with ease in mind. More and more Canadians are getting into RVing, but many have yet to gain experience or own vehicles that cannot tow larger models.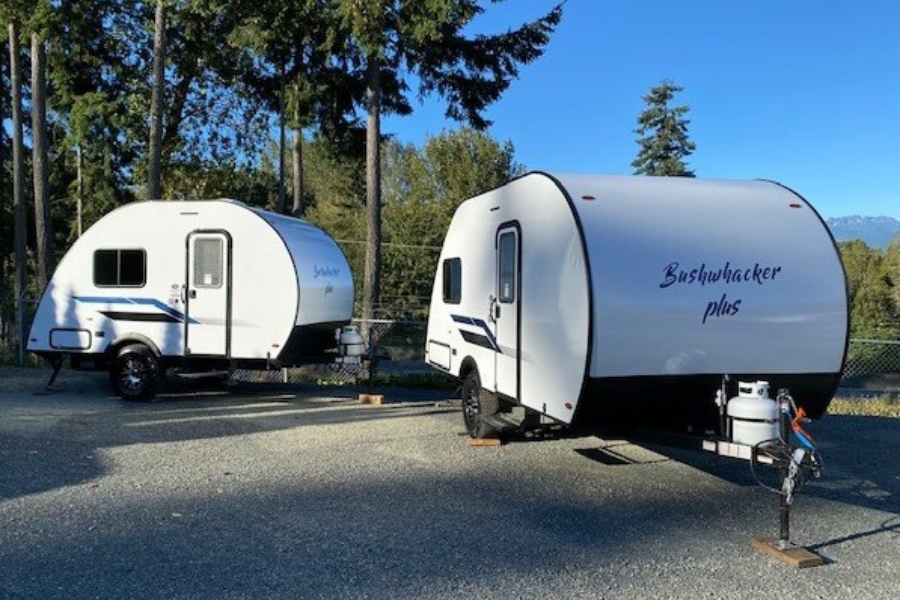 The Bushwhacker Plus is a unique model that you can tow, fully loaded, with almost any vehicle on the road, even a Prius! This brand is Braxton Creek's answer to a light trailer with space for a couple or small group.
It's perfect for people looking to spend more weekends and holidays on the road and in nature. Despite its compact size, it has all the best camping amenities, proving there's no reason to sacrifice comfort for a lighter RV.
We currently have three models: the Bushwhacker Plus 15 FK, the Bushwhacker Plus 17 FD and the Bushwhacker Plus 17 BH.
Here are some of the most exciting features of the 2023 Bushwhacker Plus.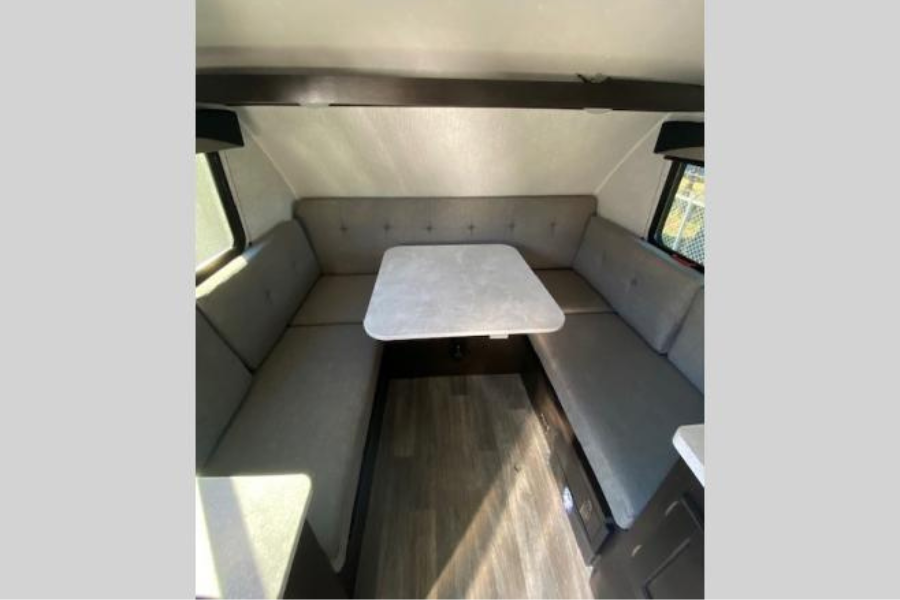 EZ Dinette
There's enough room for a small group in this cozy U-dinette! The Bushwhacker Plus' also makes dining comfortable and spacious with a table that swivels both ways.
EZ Bed
This isn't your standard one-person camper bed! Bucking the rules for small campers, the Bushwhacker Plus comes with a queen-sized mattress that folds down or can be assembled from the dinette. The setup process is easy: you can be in bed in seconds! The bed also has storage discreetly designed into the base.
Wet bath
The Bushwhacker's design is unusual because it has a bath and shower inside the teardrop. The wet bath has an extended shower/toilet enclosure making it a convenient camper for all-season travel.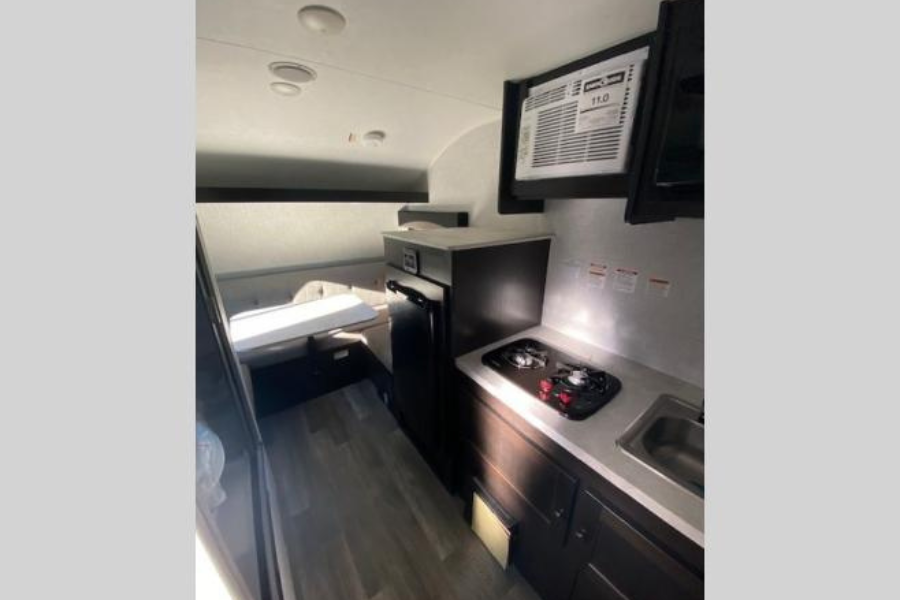 Durable kitchen
The Bushwhacker Plus kitchen has everything you need for a quick and comforting meal, no matter where you're camping.
The standard model comes with a 12v refrigerator, a two-burner cooktop, a microwave oven, and a faucet with hot and cold water features.
Roof clearance
The Bushwhacker Plus is small enough to fit inside a standard garage door opening. This is an essential selling point, making parking in homes and winter storage a stress-free experience.
Sleeping space
The 15 FK is the smallest unit and has sleeping space for two. Its U-shaped dinette converts into a queen size bed.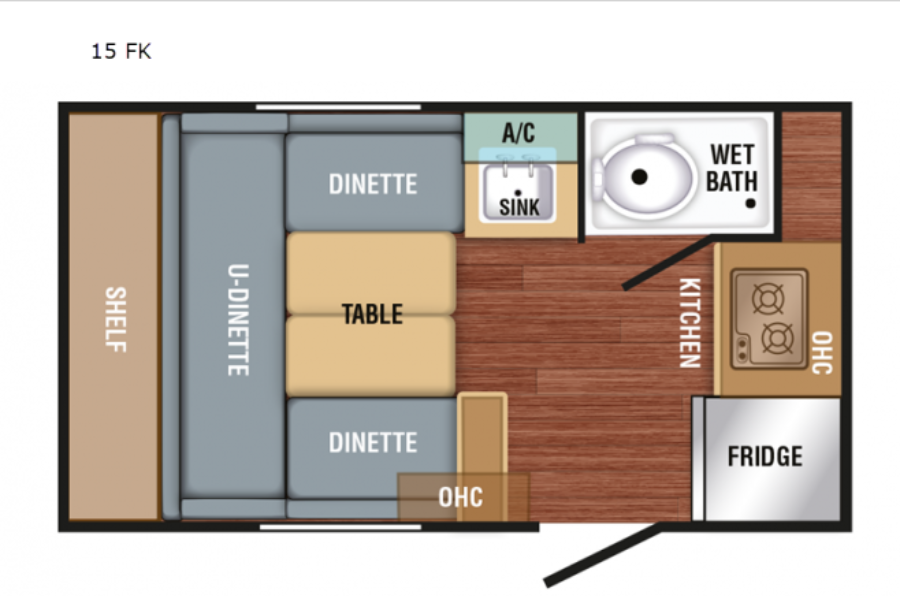 The 17 FD sleeps three. It has a queen size bed and a dinette that converts into a full bed.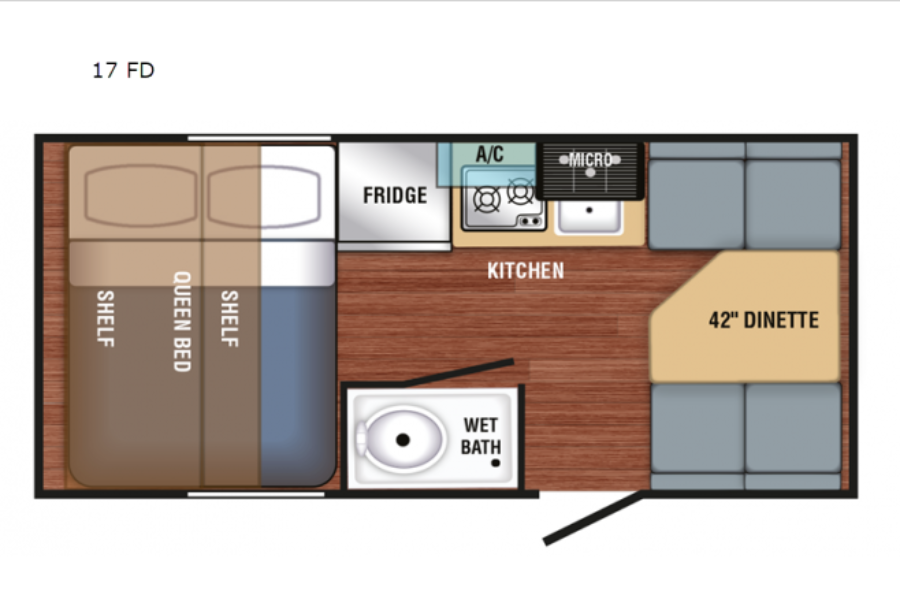 The 17 BH is the largest camper in the Bushwhacker Plus family. This camper sleeps four and comes with bunks and a U-shaped dinette that converts into a bed.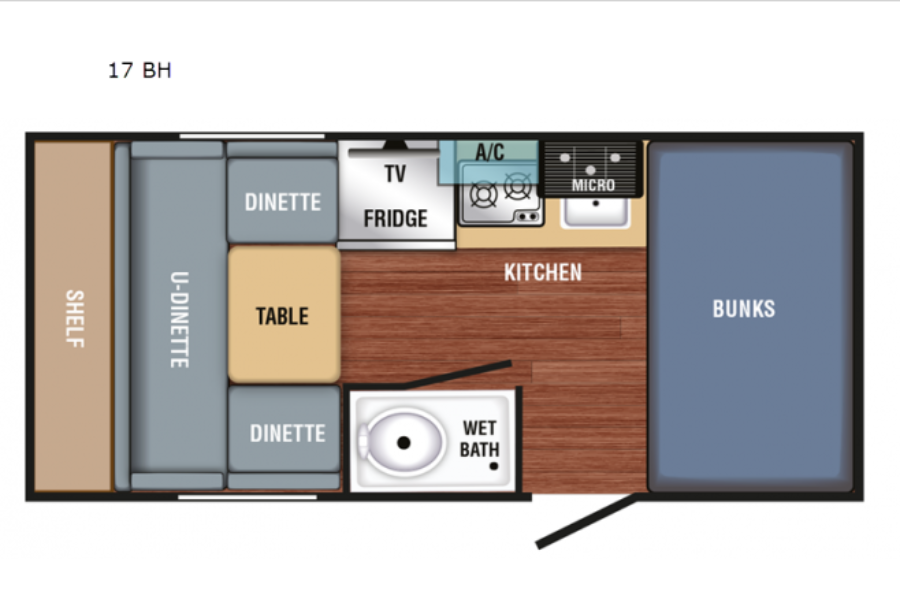 If you're looking to purchase a 2023 Bushwhacker Plus, you must choose the right dealership to give you a fair price and ensure your new RV has all the features you need. We're proud to be a local, family-owned RV dealership in beautiful Nanoose Bay on Vancouver Island. An award-winning RV dealership, we have one of the most extensive RV facilities on the island, with a dedicated team ready to serve you. Contact us today.