Are you thinking about buying a new RV to travel on Vancouver Island or across Canada this summer? Curious which RV is right for you? Well, it depends on your personality and travel goals. Some enjoy the spontaneity and freedom of a travel trailer, while others prefer the luxurious amenities and space of a motorhome.
No matter what kind of camper you are, there's an RV out there for you. Let's help you find one!
What Kind Of RV Are You?
Let's explore a few common personality types to match you with your dream RV.
RV Personality #1: The Weekender
If you're a weekender, you probably have a job that doesn't give you too much time for a getaway. You crave nature and the relaxing effect it brings, but you're not ready to take any big trips just yet. 
For you, your trips aim to destress and provide a break from your usual routine. This also means you prefer vacations with no fuss so you can immerse yourself properly in your environment. If this is you, the RV that best matches your personality is the Jay Feather Micro 166 FBS.
This RV packs in all the features you need for your solo trip without any need for much effort or assistance. The rear-end bedroom ensures you can rest and relax in a bed that feels like home.
A jackknife sofa provides extra sleeping space for your guests, and a full bathroom means you don't have to sacrifice your hygiene for your holiday. The RV also comes with a 12 LED TV so you can stay indoors for a quiet night.
See the 360° tour here.
RV Personality #2: The Dream Chaser
Dream chasers are proud of their well-earned title, and for a good reason! If you're a dream chaser, you and your family or companions like to spend as much on the road as possible.
Perhaps you spend long periods travelling, are a full-time RVer or are thinking of switching to this lifestyle. This extended time on the road means you're looking for a durable RV that will feel as open and spacious as your outdoor surroundings. In this case, the Highland Ridge RV Open Range Conventional 0T26BH ticks all the right boxes.
This pet-friendly RV has a whopping eight-person capacity. It's perfect for your family to spend time together during the journey and still have personal space if needed!
A dinette-style dining space lets you have cozy meals together before relaxing in the jackknife sofas to catch a movie on your LED TV. With a private bedroom, bunk beds, a full kitchen as well as a full bathroom, you won't be missing the comforts of home when you're on the road!
See the 360° tour here.
RV Personality #3: The First-Timer
If you fit into this category, you're probably hoping to spend more time on the road to visit all the destinations you dream of seeing. Many first-timers already own an RV, but an upgrade is necessary with plans to spend more time travelling.
Still, without extensive knowledge, the maintenance and setup of a large RV can create distractions that would dampen your camping experience. The perfect trailer for you would have enough space for a small group and doesn't require much know-how to set up, like the Highland Ridge RV Lite RL212FB.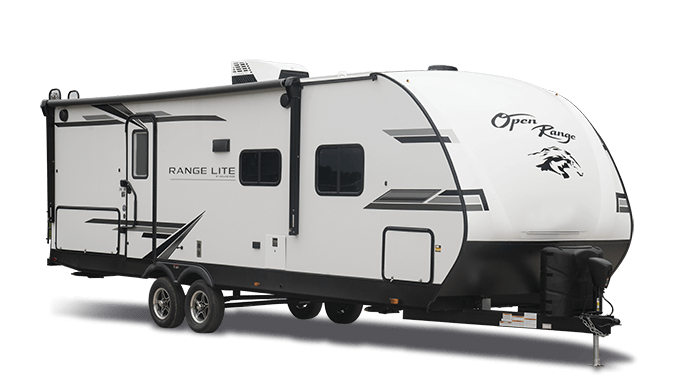 This cozy unit has room for up to four people and comes with a divider so you can have some extra privacy with a semi-private bedroom. Other features include a home-size fridge, an entertainment center and pass-through storage!
The RL212FB was designed to provide owners with the most convenient way to travel in comfort, which is clear from the 360° tour.
RV Personality #4: The Homebody
This term can be misleading as homebodies love to travel as much as any avid RVer. They'd just prefer to do so from the comfort of their homes.
If you're a homebody, you like to spend your days in peaceful towns and nature parks and enjoy your nights in a warm, familiar space. RVers in this category will find that the Jayco Eagle 317 RLOK meets all their comfort-seeking requirements.
This fifth wheel comes with a tri-fold sofa, theatre seating, a ceiling fan and even A/C! It also comes with pass-through storage, a walk-in closet and a walk-in pantry, as well as a 21 cu. ft. refrigerator, so you don't have to worry about downsizing.
Other features include a Smart RV system that gives you control over the RV's functions, two power awnings and a fireplace. Talk about a home away from home!
See the 360° tour here.
Need some more help finding your dream RV? We can help. Since its founding over 40 years ago, Big Boy's Toys RV has grown from a small company to a trusted Vancouver Island RV Dealer that has provided many RVers with the right vehicles, parts and services they need. We have new inventory arriving weekly from some of the best RV manufacturers on the market. Stop by our dealership to see for yourself.
Choose Big Boy's Toys For Your Next RV
We're proud to be a local, family-owned RV dealership in beautiful Nanoose Bay on Vancouver Island. An award-winning RV dealership, we have one of the most extensive RV facilities on the island, which a dedicated team ready to serve you.