The holidays are upon us, and it's time to spread some cheer…even in your RV! Christmas decorations are one of the best parts of the holidays. Walking into an RV decked out in lights and ornaments creates the magical feeling of Yuletide. Whether you're RVing in warmer climates this winter or have your trailer visibly parked on your property for the off-season, check out our suggestions to get your RV in the Christmas spirit!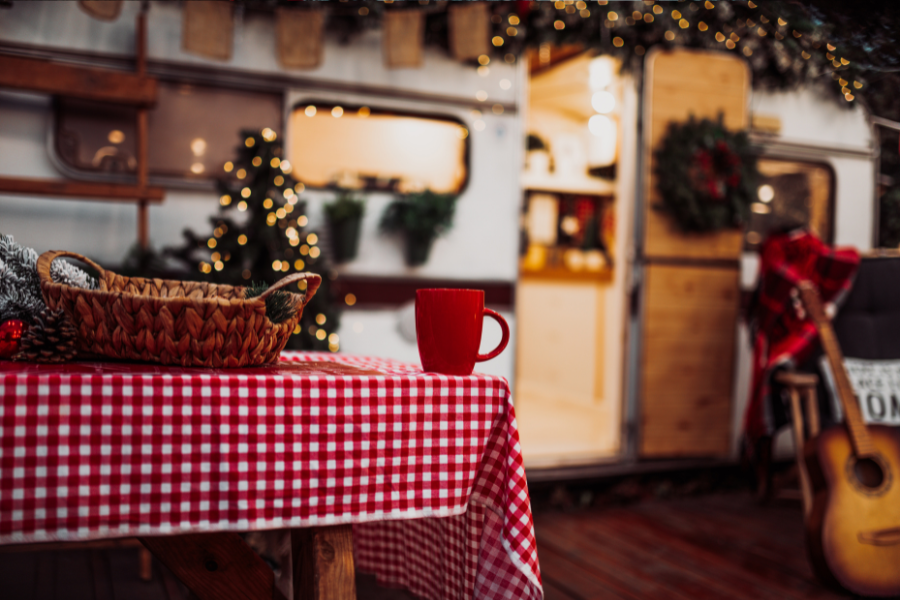 Lighting
No matter how small the space, there's always room to have fun with Christmas lighting. You can decorate your exterior by extending lights across your awning, windows or the body of the RV itself. Trying to evoke the Christmas spirit indoors? Use soft lights that will make your RV feel cozy and warm.
Swap out the decor
Have fun with seasonal decor! Christmas comes only once a year, so this is your opportunity to pull out your holiday throw pillows, blankets, linens and more! The great thing about your Christmas-themed decor is that you can reuse them yearly.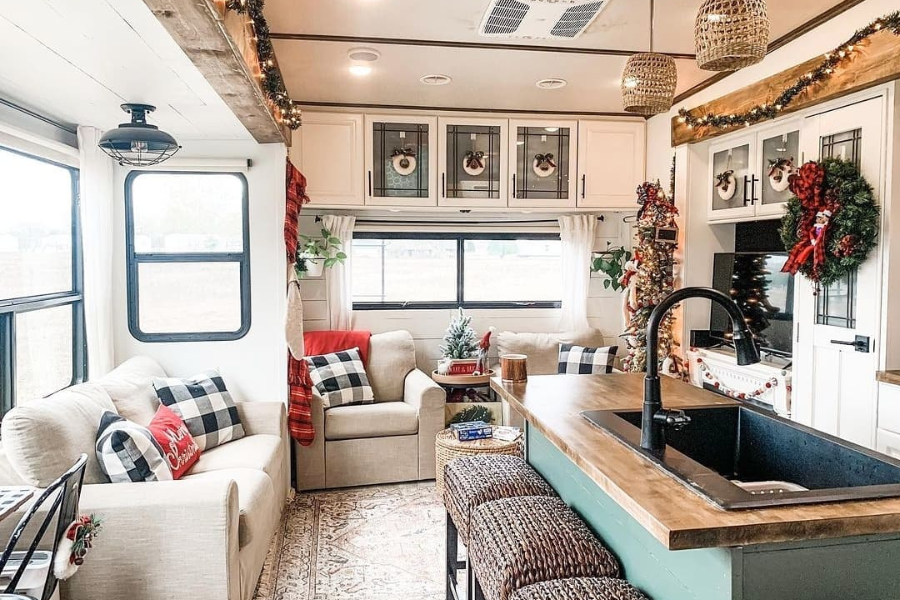 Bring in some nature
Many Christmas decorations are inspired by the beautiful winterscape outside. Pinecones, fir branches, holly and mistletoe, are all associated with the holiday and are great options if you don't have enough space for a traditional Christmas tree. However, you have a couple of options that will work if you do decide to get a tree. Tabletop trees are a popular choice, as are tall 'pencil' trees that you can install and display in a corner.
Add some Christmas colours
When in doubt, add some colour! Red and green are a classic combination, and highlighting them around your RV instantly puts you in the holiday spirit. You can play with the different festive colour combos to find the right one that works with your RV's decor.
Use Christmas scents
Ever heard the phrase 'smells like Christmas'? Get the Christmas feeling when you step into your RV with classic scents. You can find a wide range of scented candles, oils and diffusers that immediately evoke holiday cheers. Some examples are cinnamon, pine, gingerbread, rosemary and thyme.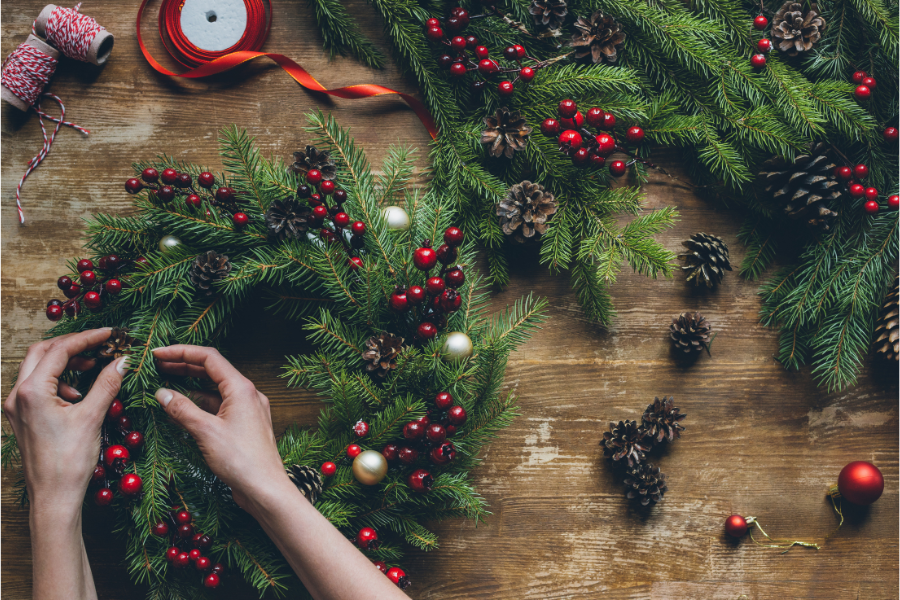 Have fun with lettering and wrapping paper
One cheap and easy way to decorate your RV is with Christmas-themed wrapping paper! You can pick this up from most grocery and bookstores. There are countless wrapping paper designs, meaning you can cover your walls with some quirky art, a classic Christmas pattern, or both!
If you have a whiteboard or a letter board, you can show off your fun Christmas messages and change them anytime to match the mood.
Create your own decorations
If you want one-of-a-kind Christmas decorations, you can make them! Arrange Christmas cards on your walls in the shape of a Christmas tree, create Christmas angels out of coloured paper, and even make ornaments using cardboard and holiday-themed cookie cutters! When you decide to do it yourself, the possibilities are endless.
Check the weight
It's essential to ensure that your decorations are light and easy to store, so they don't weigh down your RV or take up a lot of space. It would be best if you only use decorations that will remain in-place even while your RV is moving.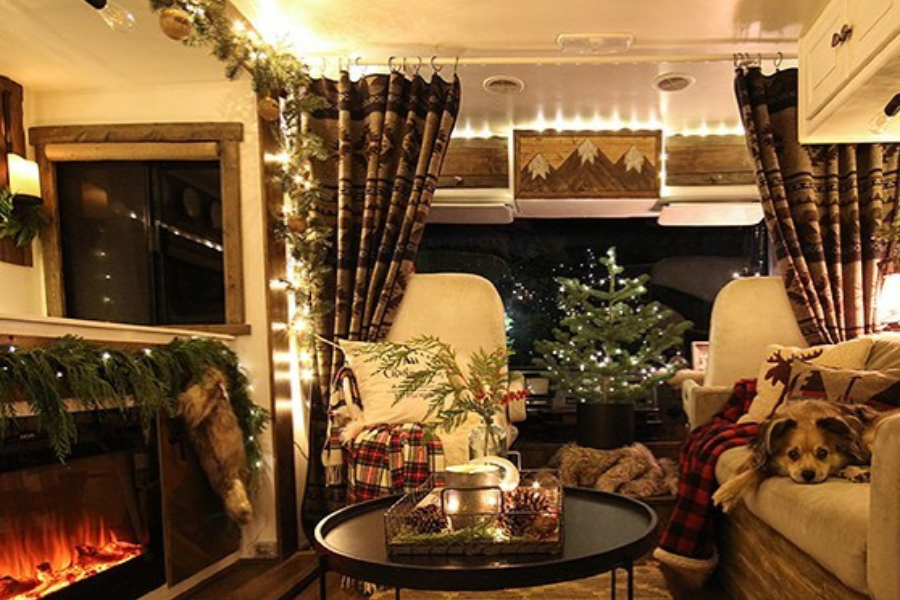 Pick up some accessories
You can purchase some functional holiday accessories from a reputable RV dealer. Firepits, two-person chairs and blankets will create a cozy Christmas vibe for those winter nights when you want to sit outside by the campfire.
Big Boys Toys RV is an award-winning family dealership in Nanoose Bay with more than 40 years of experience in the field. We offer a wide range of services and have helped hundreds of families and individuals find an RV to make new memories. Send us a message, give us a call or just drop by, and our dedicated team will be pleased to serve you.