Island life is the best life, and there's no better time to experience it than during fall. The air is crisp, the leaves change colours, and the crowds are minimal. If you're looking for some unforgettable RV fall destinations this season, check out these five gems on Vancouver Island.
From seaside towns to mountain hideaways, there's something for everyone on this beautiful island. So pack up your RV and get ready for an adventure!
Best RV Destinations on Vancouver Island
Unsure of where to go for your RV fall trip? We've compiled a small list to get you started.
Cowichan Valley
Take a fall tour through the famous vineyards in the Cowichan Valley region. Here you can sample the Pinot Gris, Cabernet Sauvignon, Marechal Foch and several other varieties the area offers. You can also explore the historic fishing village that attracts sports fishermen from all around the world.
After your tour, escape the buzz and enjoy the rich nature in the nearby Cowichan River Park, offering extensive RV facilities.
Goldstream Provincial Park
Goldstream Provincial Park is known for its famous salmon run. This unique event happens over nine weeks, starting from October and sees millions of salmon making an epic return trip to spawn in the Pacific Northwest. It's an experience that few get to see, and this park is the perfect place to check it out!
Another great thing about this park is that it's only a few kilometres from Victoria, so you can head there after enjoying what the city has to offer.
Strathcona Provincial Park
Strathcona Provincial Park boasts some of the most beautiful fall sights on the island. Enjoy the peaceful lake and watch the landscape transform with beautiful colours in the old-growth forest.
RVers looking to have more unique nature experiences will be pleased to know that the park is also a popular foraging site. Try your luck, and you might find some chanterelles, blueberries and apple trees ripe for the picking.
Tofino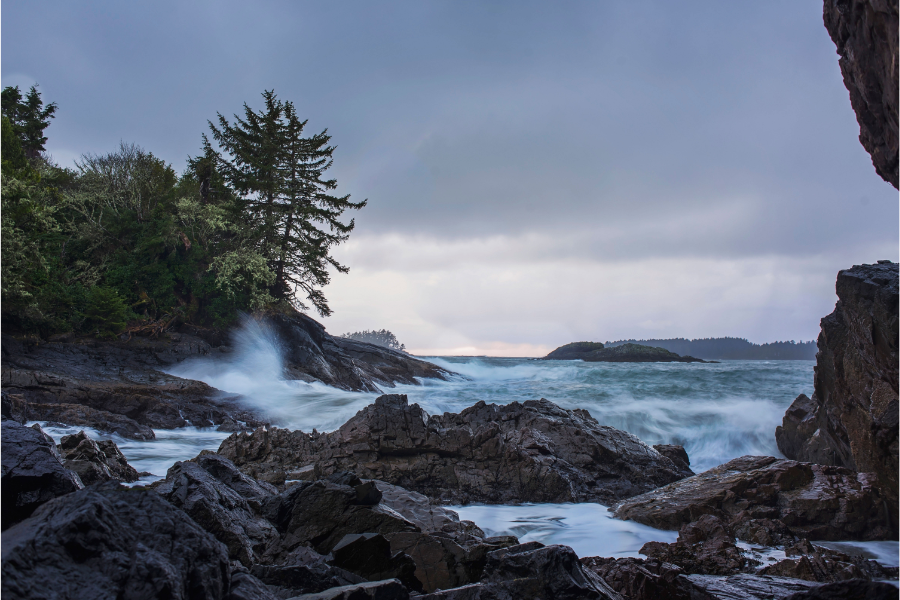 Storm watching is a favourite Vancouver Island pastime, so Tofino is on this list. There are many beaches where people can see the giant waves rolling in from Japan. Tofino also boasts great experiences, such as hiking the rainforest trail and sampling out-of-this-world seafood. You can take the 1.5 kilometres to the hot spring coves in Maquinna Provincial Park.
Ladysmith
Ladysmith is just one of the many quaint small towns dotting the island. It is also known as one of Canada's ten prettiest towns. Aside from the nature surrounding it, visitors also flock to see its historical sights and the Chemainus gallery, one of the world's largest outdoor art galleries.
RVers looking for more nature-minded activities can spend the day finding the many hidden waterfalls around Stocking Creek or exploring the Holland Creek Trail. Transfer beach, known as the jewel of Ladysmith, is also great for beach combing and watching the waves.
Get everything you need for your big fall trip.
Now that you have a list, all that's left to do is hit the road! With over forty years of experience, Big Boy's Toys RV knows exactly what you need for your fall RV camping trip. See us for your pre-trip servicing, accessories, and even unique recommendations that didn't make this list!
CHOOSE BIG BOY'S TOYS FOR YOUR NEXT RV
We're proud to be a local, family-owned RV dealership in beautiful Nanoose Bay on Vancouver Island. An award-winning RV dealership, we have one of the most extensive RV facilities on the island, with a dedicated team ready to serve you. Contact us today.